Lotte Mall Hanoi (also known as Lotte Vo Chi Cong, Lotte Tay Ho, Lotte Mall Ciputra) is a project of the most prestigious commercial center, supermarket, cinema, aquarium, office, serviced apartments, high-end condominiums, and hotels located in Phu Thuong ward and Tay Ho district in general.
Lotte Tay Ho covers an area of 7.3 hectares with a total investment capital of 600 million USD, and the project's investor is Lotte Group (one of the largest conglomerates in Korea), famous for the Lotte Center building at 54 Lieu Giai, Ba Dinh, Hanoi.
PROGRESS OF LOTTE HANOI | LOTTE VO CHI CONG TAY HO | LOTTE CIPUTRA
The Lotte Phu Thuong commercial center and apartment project is currently being implemented very quickly by the investor, and the project has almost completed the foundation work to be able to pour floors in the near future. Below are some images of the construction progress of Lotte Tay Ho Hanoi on a day in March 2023.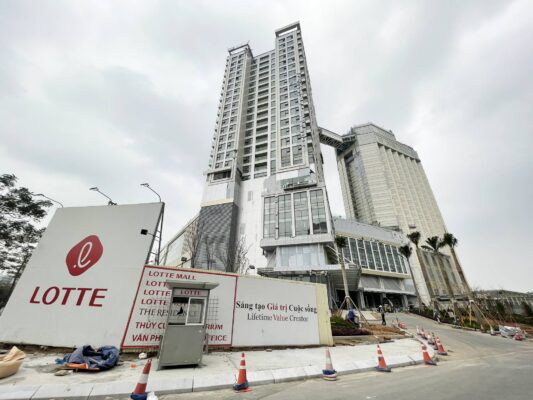 OVERVIEW OF LOTTE VO CHI CONG SHOPPING MALL AND APARTMENT PROJECT
Project name: Lotte Hanoi
Project investor: Lotte Group
Location: Vo Chi Cong and Lac Long Quan roads, Phu Thuong, Tay Ho
Project scale: 7.3 hectares
Total investment capital: 600 million USD
Design: Junglim Vietnam, Benoy, NDC
Construction supervision: IBST, 4M Vietnam
Main contractor: Lotte Construction
Building density: 50%
Purpose: Commercial center, aquarium, cinema, high-end condominiums, hotels, supermarket.
THE PRIME LOCATION OF LOTTE TAY HO | LOTTE PHU THUONG | LOTTE MALL CIPUTRA
The Lotte Tay Ho project (Lotte Westlake) is located in Phu Thuong ward, Tay Ho district. It is adjacent to two major and beautiful roads, Vo Chi Cong and Lac Long Quan.
Vo Chi Cong road is the gateway to Hanoi from Nhat Tan Bridge, which makes transportation extremely convenient from the project to the city center. Lac Long Quan road is also one of the most beautiful roads in Hanoi as it runs along the West Lake, connecting the residents of Lotte Hanoi to West Lake quickly.
It takes 5 minutes to get to West Lake.
It takes 5 minutes to get to the lotus pond in West Lake.
The Ciputra urban area is located across the street.
It takes 8 minutes to get to the Ngoai Giao Doan and Starlake urban areas.
It takes 2 minutes to get to Nhat Tan Bridge.
It takes 10 minutes to get to Kim Quy Park.
It takes 25 minutes to get to Old Quarter.
It takes 30 minutes to get to Noi Bai International Airport.
Not only is transportation convenient, residents of Lotte Mall Hanoi also enjoy a great living environment with fresh air, cool temperature all year round, low building density, and plenty of green trees and lakes.
AMENITIES OF LOTTE MALL VO CHI CONG | LOTTE MALL TAY HO
Planned to become the most high-end commercial and service complex in the northern region, Lotte Vo Chi Cong provides all the top-notch amenities and services for residents and tourists to have a premier entertainment experience in Vietnam today.
The project will have a supermarket, a cinema, a shopping center, serviced apartments, hotels, an aquarium, offices, cafes, restaurants, gyms, spas, and hundreds of booths with thousands of different products from around the world. In addition, Lotte Mall Tay Ho may also have luxury apartments for sale. However, it can only be confirmed at the official launch of the project.
PRICE AND PAYMENT SCHEDULE FOR LOTTE HANOI APARTMENTS | LOTTE MALL TAY HO
It cannot be confirmed whether Lotte Mall Hanoi will only have serviced apartments for rent or also have high-end apartments for sale. But if there are luxury apartments for sale, they will be among the most sought-after properties on the real estate market today due to the prime location, 5-star service quality, and reputation of Lotte as the developer.
The apartment prices will not be lower than other real estate projects in the area, but they will be very reasonable in proportion to what customers will receive when buying a Lotte Westlake apartment.
The prices and payment schedule will be constantly updated by us, please contact the Hotline or visit the website to receive the latest information about the project. Thank you.