Where to go for the first time to Hanoi?
Have you ever wondered where to go for the first time to Hanoi? If you are a tourist, then this is a question that you will definitely think about. Take a look at the locations below and schedule it now.
Ba Dinh Square – Uncle Ho's Mausoleum
Ba Dinh Square – Ho Chi Minh Mausoleum is the first place you should visit when you first arrive in Hanoi. This is the political center of Vietnam with the National Assembly House, the Presidential Palace, and the Ho Chi Minh Museum.
And of course, you have also heard about the beloved Vietnamese leader – Uncle Ho. He led many revolutions to bring freedom and peace to the country of Vietnam. Therefore, this is a very sacred place of Hanoi in particular, and Vietnam in general. That is why you will want to go to Uncle Ho's mausoleum to once see the face of our venerable chairman. Uncle Ho's mausoleum is surrounded by green bamboo rows and is open on Tuesday, Thursday, Saturday, and Sunday mornings. With respect and dignity in Uncle Ho's mausoleum, you should pay attention to dress neatly and do not bring video recording devices and keep order.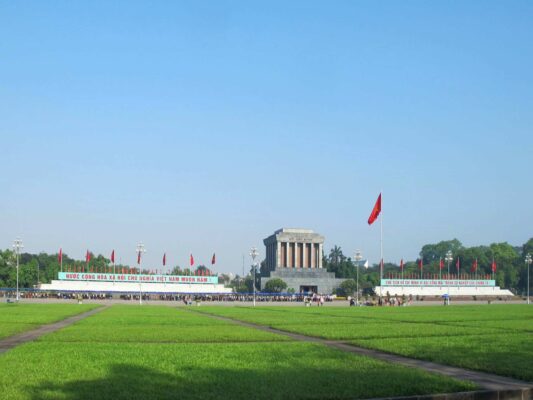 Ba Dinh Square – Place where many important historical marks of the country of Vietnam take place. That is where President Ho Chi Minh read the Declaration of Independence that gave birth to the Democratic Republic of Vietnam. Besides, parades on major Vietnamese holidays also take place here.
Hoan Kiem Lake, also known as Sword Lake, is a destination associated with Hanoi with a thousand-year history of civilization. This is also the place associated with the legend of King Le Loi when the golden turtle lent his sword to fight the Minh enemy and the story of returning the sword to the golden turtle. Because of that, this is called Hoan Kiem Lake (Sword Lake). This is also considered the soul of Hanoi with a thousand-year-old tree, graceful willow ranges, ancient temples and pagodas, old mossy towers…
In addition, around Hoan Kiem Lake, you will see an ancient Hanoi is also very modern. It is a pedestrian street on Saturdays and Sundays and is also where outdoor activities take place … Besides, there are architectural works of But Tower, Research station, The Huc Bridge, Ngoc Son temple, Le Thai To king temple …
Famous with 36 streets, Old Quarter will be the next interesting destination for you when traveling in Hanoi. The characteristic of these neighborhoods is that each will sell a certain item.
Wandering in the neighborhood and enjoying old town cuisine such as Pho Bat Dan, La Vong fish ball, Bun cha Hang Manh, Dinh Liet vermicelli, O Quan Chuong cold vermicelli, … will make your trip more memorable.
Temple of Literature – Quoc Tu Giam
Temple of Literature – Quoc Tu Giam is one of the most popular tourist destinations in Hanoi that you should once visit. This is the place of worship for the Holy, Confucian Sages, and  Chu Van An – the typical teacher of the high ethics of Vietnamese education. This is also the place where students and students often come before each important exam to pray for luck. Legend has it that those who rub the turtle's head will get a high score or pass the subject.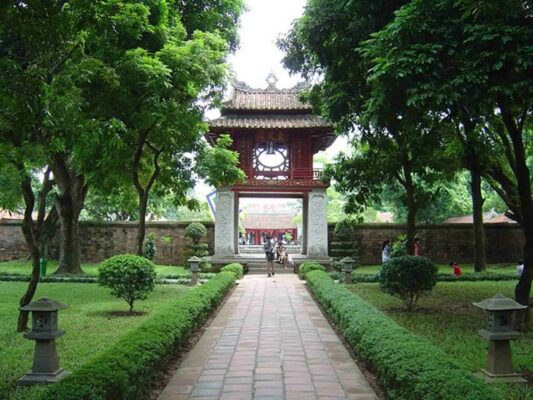 St. Joseph's Cathedral, Hanoi
Located at 40 Nha Chung Street, Hang Trong Ward, St. Joseph's Cathedral, Hanoi is a destination for Christians, and is also a familiar place for young people and tourists from all over the world. European medieval Gothic architecture with high walls, dome, and many windows makes the church look very large and magnificent. Inside, the sanctuary is engraved with wooden patterns painted with golden vermilion paint combined with the system of holy paintings in stained glass.
Tran Quoc Pagoda is one of the oldest temples in Hanoi and Vietnam, located on a southern peninsula of West Lake, near the end of Thanh Nien Street, Ba Dinh District, Hanoi. Formerly the Buddhist center of Thang Long in the Ly and Tran dynasties with historical and architectural values, Tran Quoc Pagoda is famous for being the sacred Buddha's door, attracting many Buddhists, visitors, domestic and foreign tourists.
In early 2017, Tran Quoc Pagoda has been included in the list of 16 most beautiful temples in the world voted by Daily Mail (UK). Visit Tran Quoc pagoda, make sure you will be amazed by the quiet space, poetic beauty of "lotus" floating on the surface of West Lake.
The romantic West Lake is a destination you must definitely go to. As one of the scenic spots in Hanoi, West Lake leaves in the hearts of people and especially Ha Thanh boys and girls with lyrical and poetic frames. Surrounded by a lakefront road that every early morning or sunset, people can walk or cycle and breathe fresh air. Along the rows of broad foliage shaded shade when you want to go sightseeing during the day.
Hoa Lo Prison was built in 1896 by the French colonialist with the name "Maison Centrale", is a place to keep revolutionary soldiers against the colonial regime. This was one of the most solid works in Indochina at that time. After the liberation of the capital, the prison was placed under the revolutionary government. From 1963 to 1975, this place was also used as a place to keep American pilots shot down by the Vietnamese army in the war sabotaging the North.
Imperial Citadel of Thang Long
Imperial Citadel of Thang Long is a relic complex associated with the development of Thang Long – Hanoi, built by the dynasties in many historical periods. This is also the most important relic in the system of historical relics of Vietnam. Coming to Thang Long Imperial Citadel, visitors can visit prominent places such as archaeological area No. 18 Hoang Dieu, Doan Mon, Kinh Thien Thien, Bac Mon (Cua Bac citadel) …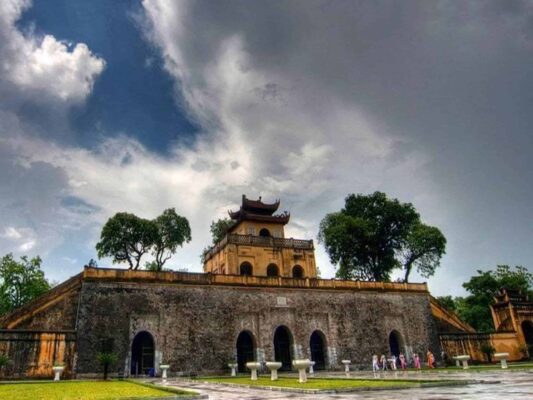 One Pillar Pagoda, built in 1049 during the Ly Dynasty, is one of the symbols of Hanoi capital next to the Turtle Tower and Khue Van Cac. In addition to its spiritual meaning, One Pillar Pagoda is a unique architectural work with high aestheticism, expressed through the art of shaping the water, sculpture, painting … reflecting the ancient cultural values as well as a national character.
Located next to West Lake and the North Gate of Hanoi, this is the most impressive spiritual site in the capital. Quan Thanh Temple is one of the "four towns" of ancient Thang Long capital. In the temple of Huyen Thien Tran Vu, the god defends the North. Over the dynasties, Quan Thanh Temple was also restored many times but basically remained the same without much change in architecture. Not only contributing to adorn the ancient and poetic beauty of the West Lake tourist area, but Quan Thanh Temple is also a valuable relic of culture, art, architecture, and sculpture, an impressive tourist destination. when coming to Hanoi.
Above are the tourist destinations in Hanoi that you can go for a day once you set foot in the capital. Besides, there are still many other attractive places waiting for you to explore. Wish you have an interesting and fun trip to Hanoi.
To book a tour in Hanoi, please visit:
https://hanoifreelocaltours.com/tour-booking/