Find apartments for rent in Kosmo Tay Ho
1. KOSMO TAY HO – Sky Residences
KOSMO TAY HO offers residents a vibrant and attractive lifestyle every day. The meticulousness in every detail of the Sky Residences apartment makes a big difference.
2. Overview of Kosmo Tay Ho Apartment
Kosmo Tay Ho apartment building is invested and developed by Refico Real Estate Group, with luxurious and modern architecture, plus an expensive view of Million Dollar to West Lake, making Kosmo Tay Ho project worthier than any other project.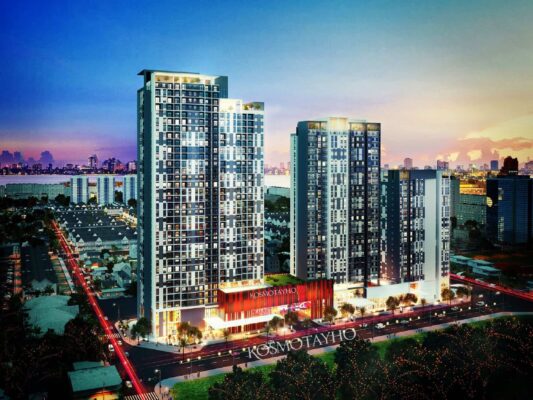 3. Location of Kosmo Tay Ho
Kosmo Tay Ho is located in lot 01 Xuan La, in Xuan Tao Ward, Tay Ho. The location of the Kosmo Tay Ho Apartment owns a potential "rich" location, from the project we only take 15 minutes to reach Noi Bai airport, 5 minutes walk to West Lake, 8 minutes to arrive. Metro Pham Van Dong center. Not only that, but the project also owns a beautiful view of West Lake and Red River.
Near major hospitals such as Hospital E, Hanoi Heart Hospital, Thu Cuc International Hospital, Transport Hospital, Central Tuberculosis Hospital …
Education: C1, C2, C3 Xuan Dinh, Hanoi Academy Bilingual School, United Nations International School, Chu Van An School, Home Affairs University
Entertainment and entertainment: Metro Supermarket, Ho Tay Water Park, Hoa Binh Park, Nghia Do Park, Sports Center in Tay Ho District, public utility center (Diplomatic Corps)
The Northeast is the intersection of the planned road (cross-section 30m) and Xuan La – Xuan Dinh street (section 24m), shophouse Dreamland Xuan La and low-rise houses.
The Northwest borders on the planned road (cross-section 30m) and low-rise housing area, kindergarten.
The Southwest is a planned junction (cross-section 30m), the Doan Ngoai Giao area.
The Southeast is a planned road (cross-section 10.5m), the low-rise military housing area of Kosmo Tay Ho is located close to the West Lake district and in the West Lake area, which benefits greatly from the transport infrastructure, trade in services brought by this urban area.
4. The design of the apartment Kosmo Tay Ho
Refico's architects are very dedicated to the design of each type of apartment. With three criteria: "Modern – Flexible – Maximize use", the design of Kosmo Xuan La apartments really becomes a different highlight compared to other projects in the Tay Ho area.
Each apartment has 2 loggias, all rooms have natural light and wind to save energy
Design a large, separate kitchen directly connected to the loggia, so when cooking, it will not smell in the apartment
The square design bedroom helps the owner to easily and scientifically decorate the furniture
The main balcony has a large area suitable for small landscape decoration, planting trees or small table decorations to sip a cup of coffee, read books …
5. Utilities at Kosmo Tay Ho
Kosmo Tay Ho project is designed with a commercial center arranged on 02 floors, with a total area of 10,683 m2. The height of each floor of the commercial center is 5m, the glass ceiling is high. Here, there will be supermarkets, food courts with Asian-European restaurants, fashion brands, entertainment areas … Health care and beauty services Gym, Spa, Sauna separately arranged on the 4th floor.
EXTERNAL UTILITIES
Convenience store around
High School & University
Shopping & Entertainment Center
Embassy
Restaurant
Health services
Kindergartens and international kindergartens
Bank
Internal walking path
Residential reception hall
Outdoor fitness area
Event space
Sightseeing station

INTERNAL UTILITIES
Child school
Warm swimming pool
Children's swimming pool
The swimming pool is shallow
Wooden swimming pool floor with sunbathing area
Fitness Center
Art garden
BBQ area
Children's playground
Retail area
Movie theater
Reading room
Community living room