Find villas/shophouses for rent in Embassy Garden
1. Embassy Garden – Civilization connection, converging elite
With the idea of providing residents with a fresh living space, a civilized and friendly community, the Embassy Garden project is built according to outstanding standards, deserving to be included in the list of the capital's top-level peer-to-peer projects.
A bustling business district with a fresh living environment, in harmony with nature, bringing satisfaction to residents, Embassy Garden will be a place to relax and a peaceful space for an integrity life for residents.
2. Overview of Embassy Garden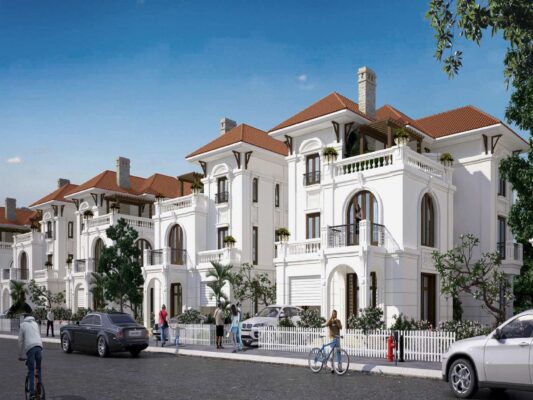 OVERVIEW OF EMBASSY GARDEN 
Project name: Embassy Garden
Project Location: Lot A1TT1 – Central Area of Tay Ho Tay Urban Area, Xuan Tao Ward, Bac Tu Liem District, Hanoi
Level 1 investor: THT Development Company Limited (100% owned by Daewoo E&C Group)
Level 2 investor: Vietnam Assets Development Joint Stock Company
The general contractor for infrastructure: Daewoo E&C
Design consultant: R Design Worldwide (Vietnam) Co. Ltd
Consulting and monitoring unit: APAVE
Total project area: 35,851 m2
Visit rental villas at https://jackierealtor.vn/for-rent/villas-in-embassy-gardens/
IN WHICH:
Residential land area: 24,085 m2
Area of internal roads: 9,643 m2
Green area: 2,123 m2
Number of villas: 53 plots (area filled with pictures from 225 – 400 m2); Number of floors: 03
Number of townhouses for business: 77 lots (the typical area is from 120 – 160 m2); Number of floors: 04
Expected population size: 792 people (average density 45 m2 of land / person)
Internal road width: 10.5m (ensuring 3 cars to circulate at the same time)
Construction density on total land area: 33.59%
Handover form: rough construction, perfect exterior
Ownership form: Long-term Red Book
Expected handover: Quarter 3/2018
3. Location of Embassy Garden
Embassy Garden owns a prime location, abundant prosperity
The "expensive" point of the project is located in favorable geomancy because it is surrounded by the Red River, West Lake, and Nhat Tan Bridge. In feng shui, where elements "hydro-wrapped" so great because it symbolizes prosper air transportation, full and sufficient wealth just for the "conditional" life.
Also from here, all open roads connecting traffic to the city center or going to the suburbs are very convenient. No more worrying about traffic jams, traffic jams, it only takes 15 minutes for Hoang Quoc Viet, Au Co, Yen Phu, Thanh Nien streets … to bring to the center of Old Quarter, Hoan Kiem Lake, Uncle Ho's mausoleum, and only more than 10 minutes to go to Noi Bai airport.
4. The rental villa market in Embassy Garden
Detached villa for rent in Embassy Garden
The villas at Embassy Garden are designed independently with an area of 225 – 400m2, built with 03 floors in the French style. With a total of 53 villas, handed over the rough and completed exterior. Rental price:
Shophouse for rent in Embassy Garden
Adjacent shophouses at Embassy Garden have a total of 77 units built on 04 floors, Mediterranean-style design, rough handover, and exterior finishing. Suitable for both living and business models. Rental price:
5. Facilities at Embassy Garden
Embassy Garden is in the master plan of the Starlake Tay Ho Tay project and the Diplomatic Corps area, so it inherits many nearby facilities.
The first is the system of green parks, central air-conditioning lakes, along with a large square, walking paths, grass hills, and outdoor sports machines. Providing residents with fresh, fresh air and a place to play and exercise to improve their health.
Next is the good security system with the local police station, the 24/7 security system at the project gate combined with the security system of the bank, the embassy … will help homeowners get a safe life, away from evils.