Find apartments for rent in Vinhomes Smart City
1. Vinhomes Smart City Apartment – The first international level smart urban city in Vietnam
Vinhomes Smart City Apartment (Vincity Tay Mo Dai Mo) is the first world-class smart city in Vietnam – One of the pioneering products of Vinhomes in particular and Vingroup, in general, applies technologies and provides high-end technology products. The most advanced in the market – Outstanding with a comprehensive Smart Ecosystem on 4 core axes: Smart Security, Smart operation, Smart Community, Smart apartment product, promising to bring us to dynamic, modern, and trendy life.
2. Overview of Project Vinhomes Smart City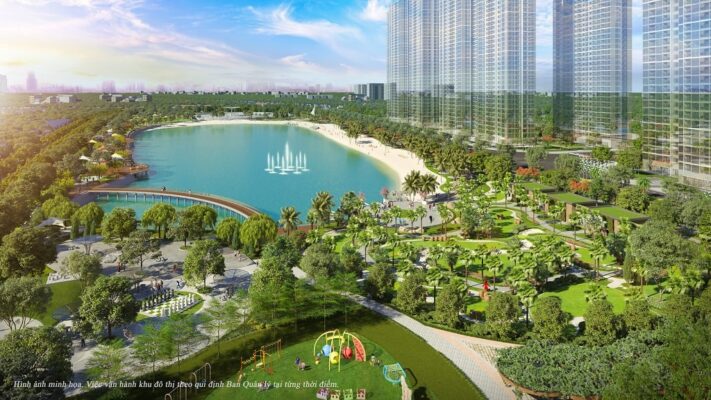 Project name: Vinhome Smart City (Vincity Tay Mo Dai Mo)
Address: Tay Mo – Dai Mo, South Tu Liem, Hanoi
Investor: Vingroup
Project scale: 280 ha (58 apartment buildings, 98 villas)
Construction density: 14.7%
3 apartment subdivisions: Vinhomes Sapphire, Vinhomes Ruby, Vinhomes Diamond
The average height of each building: 35 – 39 floors
Apartment design area: 32 – 150m2
Type of apartments: Studio / 1 bedroom / 2 bedrooms Superior / 2 bedrooms Deluxe / 3 bedrooms apartment
Construction and completion time: 2018 – 2022
Rental distributor: Jackierealtor.vn
3. Vinhomes Smart City project – Golden location in the West of Hanoi
The Vinhomes Smart City project owns a golden position in the western heart of the capital. Project Vinhome Smart City Tay Mo (Vincity Tay Mo, Vincity Dai Mo) is only less than 3km from My Dinh National Convention Center by road. Vinhome Smart City on the intersection of Thang Long Avenue and Le Trong Tan Street. In addition, the project owns the intersection of modern urban railway lines 5,6,7. In particular, according to the plan to relocate 13 offices and departments, in the near future, this place is definitely one of the few projects of a caliber as close to the new administrative center of Hanoi.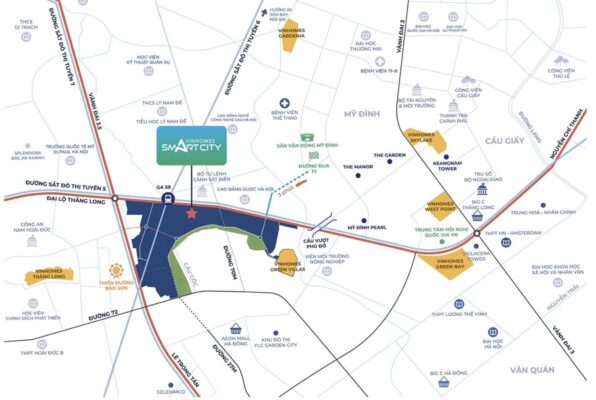 Because Vinhomes Tay Mo Dai Mo has a convenient location, residents of Vinhomes Smart City urban area can easily move to any location in the city. In the trend of global urbanization, when 2/3 of the population will live in urban areas by 2030 (Allianz forecast), plus the current situation of the urban land fund in Hanoi is scarce, there will be almost no second megalopolis that possesses the advantage of location and infrastructure connectivity like Vinhomes Smart City Tay Mo project. Vinhomesmart city is an important highlight to ensure the rising potential of real estate in our Vinhomes projects.
4. Vinhomes Smart City Tay Mo Dai Mo – Rental apartment type, design, and price
Apartment Vinhomes Smart City Tay Mo Dai Mo has a total of 58 buildings, divided into 3 subdivisions Diamond, Ruby, and Sapphire. The apartments here are divided into studio types, 1 – 2 – 3 bedrooms with an area of 30 – 98m2. The apartments are designed in a modern and optimal style with optimal use. Along with that is a smart home system so that residents can control the devices in the house with just a smartphone.
Rental price of Apartment Vinhomes Smart City
Unfunished/Basic apartment for rent at Vinhomes Smart City
Fully furnished apartment for rent at Vinhomes Smart City
5. High-class and synchronous utility system at Vinhomes Smart City Hanoi
Vin Smart City, like most high-end apartment real estate projects of Vingroup, Vinhomes Smart City Tay Mo owns a synchronous system of great utilities. All needs and enjoy the life of residents of Vimhome Smart City urban area are all wrapped up in the project planning space: Vinmart Shopping Center, education system from kindergarten to high school, hospital of international standards. Vinmec, commercial office system, … In addition to the Vinhomes Smart City Dai Mo apartment project, there are 3 large uninterrupted parks and a large lake with a construction density of only 14.7% (smallest among apartment projects. ).
To have more information about rental apartments at Vinhomes Smart City, please contact 0398195355 – Jackie!