Find apartments for rent in Vinhomes D'. Capitale
1. Vinhomes D'. Capitale – Where quintessence converges
Vinhomes D'. Capitale (a.k.a Vinhomes D'. Capitale Tran Duy Hung) is an outstanding project invested, distributed, managed, and operated by the brand Vinhomes – D'. Capitale by Tan Hoang Minh Group. The first level in the capital, located on the key intersection of Hanoi city – Tran Duy Hung, Pham Hung, Khuat Duy Tien intersection, Thang Long Avenue. As a luxury urban complex gathering the second brightest spots in the western gateway real estate market, the project is an ideal place that many tenants are looking for today.
2  Vinhomes D'. Capitale – Diamond position
Vinhomes D'. Capitale project owns a rare prime location located on the front of Tran Duy Hung Street, the West borders Khuat Duy Tien Street, the South borders the widest conditioning lake of the western gateway. The project is located opposite Big C Thang Long, next to the Grand Palace, fully inherits a modern traffic safety system, high-class infrastructure, and materials that have been built before. Especially, the project is located in the busiest "economic-political" area in Hanoi: 25 MINUTE transfer to Noi Bai international airport, 15 MINUTES to the capital center, Hoan Kiem Lake, Hanoi Railway Station, Bach Mai Hospital; 1 KM is to the National Convention Center, 1.5 KM is to the National Stadium,…
3. Vinhomes D'. Capitale – Design of Rental Apartment
Tan Hoang Minh Group is a reputable investor with projects designed in the French style, so the apartments at Vinhomes D'. Capitale has soft, luxurious, and delicate exterior lines, while the interior is modern and classy. and comfort. The owner of each apartment will enjoy the paper minutes in harmony with nature by large windows with transparent glass, a large balcony overlooking the lake, and especially security equipment for each apartment to protect the integrity of your peaceful life.
4. Vinhomes D'. Capitale – Apartment Type, Area & Rental Price
Vinhomes D'. Capitale Tran Duy Hung project is considered one of the outstanding real estate products under the Vinhomes brand name in the period 2016 – 2018. According to information from some newspapers, the project is in the planning orientation of the City People's Committee. Hanoi aims to develop the western region into a busy economic and cultural center, contributing to reducing the pressure on Hanoi's inner city which has been overloaded for a long time. Vinhomes D'. Capitale is a complex of projects of a "huge" scale, with a total of 06 buildings including 04 apartment buildings and 2 Soho apartment buildings. In which:
Tower C1 is 39 floors high, type of apartment with an area of 57 – 100 m2, designed into 01 – 03 bedrooms. Rental price:
Tower C2 is 45 floors high, type of apartment, and studio with an area of 37,54 – 60,74 m2, designed into 01 – 02 bedrooms. Rental price:
Tower C3 is 41 floors high, type of apartment with an area of 70 – 120 m2, designed into 02 – 03 bedrooms. Rental price:
Tower C6 is 42 floors high, type of apartment with an area of 70 – 111 m2, designed into 02 – 03 bedrooms. Rental price:
Tower C7 is 42 floors high, type of apartment with an area of 71 – 111 m2, designed into 02 – 03 bedrooms. Rental price: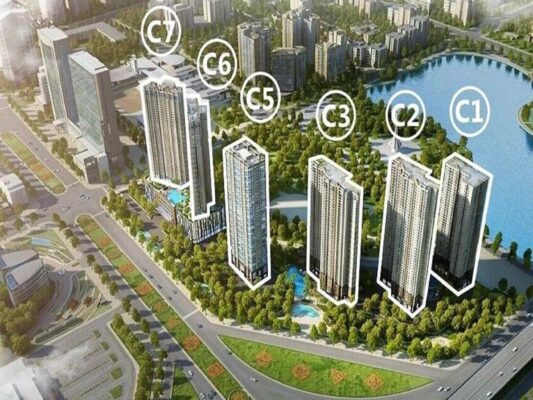 5. Vinhomes D'. Capitale – Perfect Amenities
The combination of the two big players on the market brings the project a refinement in every detail, from design to more than 40 world-class gadgets in the Vinhomes D 'project. Capitale. In addition to the best off-site facilities, the lake next to the project, BigC Thang Long, banks, hospitals, and neighboring schools, the following facilities will help residents live more conveniently than ever: gym, swimming pool, outdoor cafe, relaxing island, yoga court, art garden, lake …