About Sunshine Group
[fac_icon icon="bookmark" color="#dd3333″]What is the process of the formation and development of Sunshine Group?
Sunshine Group was formed and launched for the first time on April 13th, 2016, with a charter capital of up to 300 billion VND. At the time of its establishment, it was a multidisciplinary group of services, education, technology, construction, real estate trading, and trading with a system of large and typical companies in Vietnam. May be mentioned as:
IDG Vietnam Construction Joint Stock Company
Sunshine Group Joint Stock Company
Sao Anh Duong Joint Stock Company
ADG Holding Joint Stock Company
Hanoi No. 7 Housing Development Construction Investment Joint Stock Company
Starting with the first project in August 2016, Sunshine Group launched the real estate market of the Mai Trang Tower project, which was later renamed Sunshine Center with a total investment of up to 1,600 billion VND. Next are two high-end real estate projects located in the middle of Hanoi, named Sunshine Garden (total capital is 3,000 billion VND) and Sunshine Riverside (total capital is 2,500 billion VND). And it is even more impossible not to mention the Sunshine City project with a capital of 5,000 billion that has attracted a lot of foreign investment.
Not stopping there, it also invested strongly VND 8,800 billion in the Singapore standard Sunshine Green Iconic project. And some super-luxury real estate projects such as Sunshine Crystal River with a total capital of 3,500 billion VND and Sunshine Golden River with a total capital of 2,000 billion VND.
Thus, in just a short time (from 2016 to 2020), the group has created many typical real estate projects, increasing its charter capital from VND 300 billion to VND 17,728 billion.
[fac_icon icon="bookmark" color="#dd3333″]Who is the chairman of Sunshine Group? Who is Mr. Do Anh Tuan?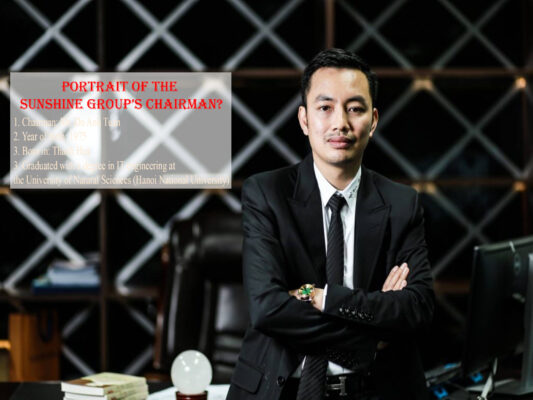 You must be wondering who is the chairman of Sunshine Group? Or who is Mr. Do Anh Tuan? And come from like? So Jackie Realtor will answer questions for you below!
The Chairman of the Board of Directors of Sunshine Group is a relatively young businessman. That is Mr. Do Anh Tuan. He was born in 1975 in Thanh Hoa, graduated with a degree in IT engineering at the University of Natural Sciences (Hanoi National University). After many years of dedication to the State at the Central Commendation Committee, he went out to do business. And those same years of business have given him a certain amount of experience to build up the huge corporation that we see today.
With its rapid formation and development, coupled with a very strong financial potential, the group has made real estate "big bosses" in Hanoi such as Vingroup, Tan Hoang Minh Group, and Sungroup wary.
[fac_icon icon="bookmark" color="#dd3333″]What are the fields of activities of Sunshine Group?
Not only developing in the real estate sector, but Sunshine Group also focuses on investment in other areas such as technology, construction, commerce, and education. To demonstrate that, the group has launched the fields of activities below!
The fields of activities of Sunshine Group
Especially, it is also the first real estate corporation to apply technology 4.0 in real estate. Accordingly, residents can remotely control devices or gadgets, amenities & services with just a smart phone.
[fac_icon icon="bookmark" color="#dd3333″]What projects of Sunshine Group have come into operation?
Hanoi is the origin of Sunshine Group's first projects. Because of that, there are projects that have been completed and put into operation. So let's take a look at Sunshine Homes' representative projects that contributes to change Hanoi's appearance with light and technology through this video below!
To have information about Sunshine Group's projects, please contact us via:
[fac_icon icon="phone" color="#dd0000″] (+84) 39 819 5355 – [fac_icon icon="envelope" color="#59d600″] jackierealtor.enquiry@gmail.com