Top 10 golf courses in Hanoi for professional golfers and amateurs!
Golf is a sport that is not too new for many people. However, to find a Hanoi golf course that meets all the conditions for players is not easy. With this article, Jackie Realtor will introduce to you the top 10 golf courses in Hanoi to please both professional golfers and amateurs!
Golf courses in Hanoi for beginners
For golf beginners, the golf course does not require too much difficulty and challenge. Instead, these places must have a not too high fee, have an experienced and enthusiastic instructor along with the results evaluation system after each game is noticed by the majority of people. The following golf courses in Hanoi will focus primarily on the features most suitable for new golfers.
– Address: Thang Loi – Victory Hotel, 200 Yen Phu, Tay Ho District, Hanoi.
– Get directions to BRG Golf Center
Located on the campus of Thang Loi Hotel near West Lake, BRG Golf Center is the first golf practice course in Hanoi that has a teaching method according to Jack Nicklaus. A special feature of this golf course is the golf training motto of the Academy: "Attracting many beginners to practice golf".
Each new player will be given specific instructions to improve the best playing technique. It is also Jack Nicklaus's method, which helps golfers realize their own strengths. In addition, with high-quality infrastructure, this is also a familiar exchange place for many good golfers. And BRG Golf Center also regularly offers special offers and prices for its members.
BRG Golf Center with a total area of 1,700 square meters with many supporting function rooms, 36 lines / teeing ground spreads over 3 hectares, and sand traps overlooking the West Lake and 147 soccer analytical floors according to Academy standards Global Nicklaus.
BRG Golf Center also offers an all-day dining service on Vi Bar overlooking the romantic West Lake. Golf shop with products for Golf from leading brands in the world.
Ciputra Hanoi Golf Course
– Address: Ciputra Hanoi International City – Xuan Dinh, Bac Tu Liem, Hanoi
– Get directions to Ciputra Golf Course
Golf course in Hanoi – Golf Ciputra, belongs to Ciputra Club – a sports and entertainment center of 11,000 square meters in Hanoi with modern, high-end equipment and open spaces in harmony with nature. Here comes the world's largest LGA Golf training academy. New golfers often choose Ciputra because it has the best learning and learning tools available today. Including Trackman, Gasp Lap, … In addition, when registering as a student here, you also have the opportunity to participate in golf training by golf experts with PGA certification.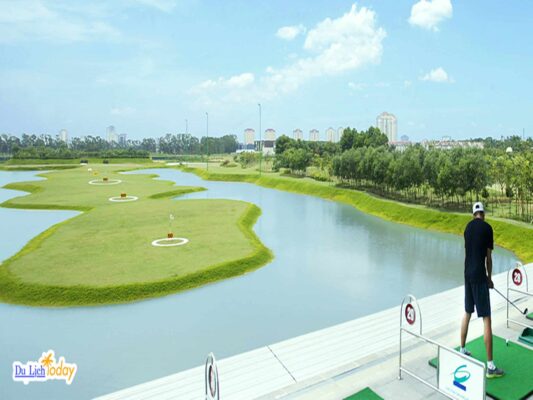 Golf Course in Hanoi, Ciputra Golf possesses modern facilities with up to 38 training lanes facing the lake up to 300 yards long; a chipping area with natural sand pits; a putting green area with an area of 300m2, and a Pro-shop – which provided a full range of golf tools and toys of many famous brands.
– Address: No. 8, Le Trong Tan, near the intersection of Truong Chinh – Ton That Tung
– Get directions to Mipec Golf Club
Located in the heart of Hanoi, Mipec Golf Club, which includes the practice area, the support service area, and the Pure Performance golf academy, is the place that many golf beginners love. The advantage of the Mipec Golf Course is equipped with advanced technology, professional and enthusiastic coaches, and especially the affordable training fee. The golf academy here is also the first and only tool alignment center of two famous brands Titleist and Ping in Vietnam.
Mipec Golf Course consists of 2 floors with 52 practice lines. Spacious grass (250 yards) with many practice mats, modern lighting system. There is also a culinary restaurant with a diverse menu serving golfers.
– Address: Golfnet Sports Complex, Le Duc Tho Street, My Dinh 2 Ward, Nam Tu Liem District, Hanoi.
– Get directions to FLC Golfnet Course
FLC Golfnet Course is one of the largest golf courses in Hanoi with a very convenient location – My Dinh area. FLC Golf Net with an open, spacious, and professional practice space will provide golfers with the most suitable playing conditions. With over 500 members and thousands of regular golfers, at FLC Golf Net is the ideal destination for those who are just starting out and want to hone and exchange more golf skills.
FLC Golfnet is spread over an area of 3ha, along with advanced modern services such as a golf academy, pro shop, restaurant system, coffee shop, … ..It is considered as one of the places. Biggest golf player today with 90 covered indoor teeing lines and cooling system, 10 separate lines for left-handed players, 5 lines of outdoor natural grass for professional golfers, …
– Address: Regiment 918, Phuc Dong Ward, Long Bien district, Hanoi
– Get directions to Long Bien Golf Course
Known as the "first and only open" golf course in Hanoi in the North under the design and construction of one of the world's leading golf course design companies – Nelson & Haworth Golf Course Architects. Long Bien Golf Course has always focused on its greatest advantage – geographical location as well as golf course landscape. For longtime golfers, the terrain landscape and infrastructure are always something they care about. In addition, Long Bien Golf Course also owns the restaurant area, wine cellar, training support rooms that best serve golfers in a prime location in the heart of Hanoi.
The Long Bien Golf Course consists of 3 courses, each with 9 holes and is located on steep terrain, with both low and deep areas. Especially, courses A, B, C are designed differently based on different levels of difficulty creating challenges for players. In addition, the lighting system along with trams throughout the golf course ensures that it will bring the best practice space for golfers.
Golf courses in Hanoi for professional golfers
– Address: Minh Tri Commune, Soc Son District, City. Hanoi.
– Get directions to Hanoi Golf Course
Hanoi Golf Club – Hanoi Golf Club – Minh Tri golf course (HGC) is the first and only golf course built and managed by the Japanese in Vietnam. Hanoi Golf Club is a golf course near Hanoi just 40 minutes' drive from the city center, in a large area on an area of 108 hectares, extremely airy and fresh and cool. Hanoi Golf focuses on taking care of lawns and golf holes. Because grass on golf will also affect the golfer's ball lines. Hanoi Golf Club often organizes annual tournaments, gathering many experienced golfers to attend.
With 27 golf holes and a lighting system for golf at night, HGC also designs wide, gently undulating, best-used grass – Tip ton 328 is cared for under the supervision of No. 1 lawn specialist. HGC is also equipped with an electric vehicle system that allows players to easily move through the lines while playing golf.
– Address: BRG Legend Hill Golf Resort, Soc Son, Hanoi
– Get directions to Legend Hill Golf Course
Legend Hill Golf Course is located 30km from Hanoi. This is the first golf course designed by Nicklaus Design himself. Located in a suburban area with suitable natural conditions along with spacious terrain accompanying the architectural works of Legend Hill Golf Resort such as motels, hotels, restaurants, … extremely in harmony with nature garden Along with trees, lakes. This is a suitable spot for sports activities combined with relaxation for many families on weekends.
With 18 holes and 36 greens along with specially designed "twin greens" from Nicklaus Design, Legend Hill Golf Course is sure to be the perfect challenging place for experienced golfers. About the type of grass used to design the ground is Paspalum grass used exclusively for golf courses. In addition to the golf course, the auxiliary service area with the living area, golf room, pro shop, … is always ready to serve customers in the best way.
– Address: Dinh Am, Khai Quang, Vinh Yen, Vinh Phuc
– Get directions to Dam Vac Golf Course
45km from Hanoi, Dam Vac Golf Course (Heron Lake Golf Course & Resort) is one of the first 5-star standard golf courses in the North designed by Pacific Coast Design Pty.Ltd. In addition to the golf course, there are motels and hotels with beautiful and fresh natural landscapes. A golf clubhouse is a gathering place for many golfers to compete.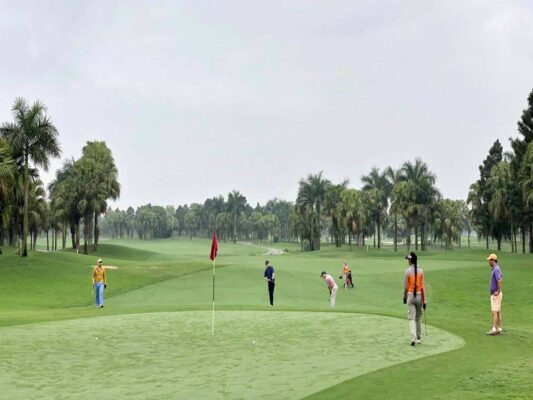 – Address: Van Tri Golf Club – Kim No Commune, Dong Anh District, Hanoi.
– Get directions to Van Tri Golf Course
Hanoi Van Tri Golf Course has a convenient location, not too far from the inner city of Hanoi, only about 20km from the city center. This is a certified golf course with the most beautiful design in Vietnam, the most friendly with the environment, … With 18 golf holes designed by Peter Rousseau himself, Van Tri Golf Club will be a great place for golfers to experience and challenge shots.
Van Tri Golf Club consists of 18 holes spread across an area of 6,700 yards from the green tee and 7,200 yards from the champion-tee. In addition to a peaceful and green space, there are also many advantages that longtime golfers choose that are the unique design of the golf holes. Each hole is seamlessly designed and has no endpoints. Broad fairways with lay-ups are common features of holes. Especially not to mention hole number 4 with par 3 with a length of 174 yards is highly challenging. Van Tri Golf Club also has a chain of restaurants, bars, coffee shops serving golfers when coming here with support rooms such as rooms, Jacuzzi bathrooms, …
Dong Mo Hanoi Golf Course (BRG Kings Island Golf Resort)
– Address: BRG Kings Island Golf Resort – Dong Mo, Son Tay, Hanoi
– Get directions to Dong Mo Hanoi Golf Course
36km from the center of Hanoi, BRG Kings Island Golf Resort in Dong Mo is a suitable place for golfers to challenge their golf skills. There are two main golf courses, Lakeside with 36 golf holes and Mountainview with 18 holes, surrounded by a landscape of trees and cool mountains. Mountainview Course is the leading engineers and designers of Pacific Coast Designs, making the most of the available terrain and natural scenery, plus the use of Novotec grass imported from Australia is guaranteed to bring players the best golf experience.
Mountainview Course with 18 holes – Par 72 spread over 7,000 yards from the Gold tees. Each hole is designed differently creating different challenges for golfers. Hole 1 is a 4-stick standard, hit across the lake, plus lots of bunkers and bunkers. Hole 2 is a standard 5 overpass and bunker on the left side of the fairway. 18 holes in turn will be challenging with increasing difficulty for golfers. Lakeside 18 holes spread over 350ha, especially of which 14 holes will allow golfers to play with the lake.
Above is the list of the top 10 most popular Hanoi golf courses for both beginners and longtime players. Each golf course will have its own advantages, design, and facilities, suitable for different players. Depending on your needs, capabilities, economic conditions as well as the appropriate geographic location, you can choose the most suitable golf venue.